Adept Erikara ("Old Healer" in Dwarven) (Male Hill Drawf)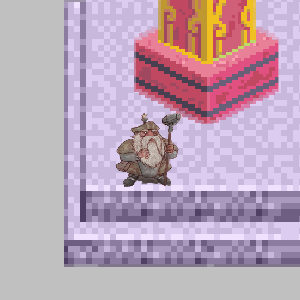 Erikara is a gentle old adept. Years ago he chose to leave the central monastery of the Hill dwarf clan in the Continental Passing to seek out and help the "clanless" dwarves across Flanes. He felt what dwarven society had done to many of them was wrong and unfair, and that they needed the gods' help and guidance as much as any other dwarves.

Over the years he gathered a sizable group of clanless, who formed a form of wandering caravan-like tribe. He also formed close relations with many of the clanless dwarves across Flanes, and was always on call if they needed him. In fact, it was he who led the majority of the dwarves who now call Bofdunn home to Landen's hall in search of sanctuary.

Since helping found his children's new home Erikara continued his role as their spiritual leader, and acted as the hamlet's leader until the arrival of the recently knighted paladin of Moradin Kalup. Along with all of Bofdunn Erikara has sworn allegiance to the kind-hearted paladin, but he still remains the head of spiritual and divine affairs while the noble paladin is away.